City of Edwardsville Administrative and Community Services Committee met May 11.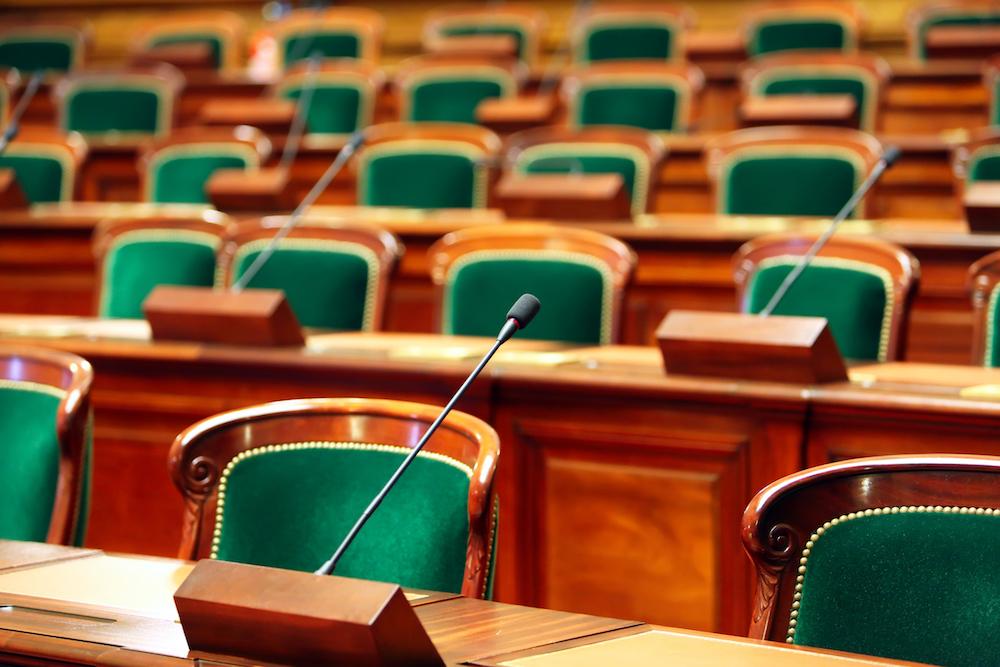 City of Edwardsville Administrative and Community Services Committee met May 11.
Here is the minutes provided by the Committee:
Present:
Art Risavy
Bob Pfeiffer
Will Krause
Chris Byrne
SJ Morrison
Chad Morris
Cheryl Porter
Walter Heck
Eric Williams
Gina Gucciardo
Tim Harr
Cody King
Walt Williams
Excused:
Public Comment: None
1. Approval of minutes for April 27, 2017 ACS Meeting-Motion to approve (Risavy), seconded (Krause) and voted all ayes,
2. Correspondence & Announcements:
A.) Monthly Permit Report - April 2017
B.) Memo from Plan Commission regarding Final Plat of Heck's Subdivision
3. Council Matters
A.) Filed For Second Reading:
1.) An Ordinance Annexing Certain Territory to the City of Edwardsville, 5497 New Poag Road, New Poag Associates LLC - Annexes the 15.2 Acre Reserve PUD Site Alderman Morrison asked what happens if this property does not get annexed into the City. Cheryl Porter stated that they would be paying out-of-city rates for any connections to sanitary sewer and water that would be made. There would be no police or fire protection from the City without paying an extra stipend for fire protection and police protection would be through the Sheriff's Department if it was unincorporated. Alderman Morrison asked if the plans for the site have been approved. Cheryl Porter responded the PUD Development plan went through Plan Commission and City Council and did receive approval. After proceeding with the annexation, the developer would be in the process now of putting in public improvements and preparing that site for the final site plan to proceed and go forward at some future date. There was discussion about what could go in that area if the annexation did not go through. Tim Harr asked if the infrastructure plans have been received. Eric Williams stated the water and sewer permits have been applied for. They've also submitted storm water and mass grading plans but no building permits have been turned in. The road going into the complex will be a private road. They will be widening New Poag Road as part of the PUD. Motion to approve (Risavy), seconded (Morrison) and voted 2 ayes and 1 nay (Krause) to forward to Council,
B.) New Items:
1.) Sign Variance Request for 226 S. Main Street-The sign had been installed without a permit in the same location the previous property owner had a signat. The last record the City has of a sign permit at this location was in June 1998 but in November 2008 the City revised its sign ordinance and required there needs to be a 13 foot setback from the property line. Since that time, the City found that it doesn't always work as there is not a one sizefits all. There has been a systematic approach and a policy that has been established that as a sign moves closer to the pedestrian way and to the right-of-way, then it's reduced in height and reduced in overall scale of the sign. The sign that was put up is taller than it should be at the location where it physically sits from the property line. The sign currently sits at a 1' 1" setback from the property line. In order for the sign to stay at the current height it is, it would need to setback 2.84 feet from the property line or in order for it stay at the same location, the sign height needs to be reduced to 6.47 feet. Currently, the sign measures at 7 feet 3-1/2 inches from the top edge of the sign to the ground underneath it. Motion to approve doing one of the two options presented (Morrison), Seconded (Krause) and voted all ayes to forward to Council.
2.) A Resolution Approving Final Plat of Heck's Subdivision-approves the final plat of the subdivision-Pending recommendation from Public Services Committee of the Preliminary Plat of Heck's Subdivision-This has been approved at Public Services Committee. The City vacated right-of-way and it was reincorporated into the division of property. This is a re-subdivision and a consolidation of 3 Separate pieces. Motion to approve (Krause), seconded (Morrison) and voted all ayes to forward to Council.
C.) Items Held in Committee:
1) Resolution Authorizing an Amended Intergovernmental Agreement for Lewis and Clark Community College Sign - Seeks changes from 2007 Intergovernmental Agreement regarding the approved location, design, and size of sign - Heid 10/27/16 & 4/27/17 - Alderman Krause asked where the sign could currently go as approved under the 2007 agreement. Under that agreement, Cheryl Porter pointed out the location on a map of where the sign would've been. It's now being proposed in the median. Alderman Krause stated the LeClaire junction was Completed in December 2011. He asked what happened between 2007 and 2011 that the sign did not get built. Chad Morris indicated it had to do with the development that MCT was planning. There were some issues with setbacks. After that, it fell off the budget. Alderman Krause stated that moving forward to now with the addendum they're asking for, the sign, for the most part, looks the same with the exception of the void in the sign beneath the Lewis & Clark logo. He asked what's proposed for that void. Chad Morris responded that if it's ever approved, it will be a dynamic display. Cheryl Porter stated that dynamic display is not allowed in residentially zoned areas like this one. A few months ago there had been an ordinance that had been brought forward to Council that would've allowed electronic message board signs in Residential areas. This could've been a viable option for this location because of the zoning classification that it carries plus the electronic message board sign ordinance that was proposed did not have a setback distance between those types of signs and dynamic display signs. However, that did not make it through Council and get approval. Alderman Krause asked if neither the electronic message board or dynamic display get approved, what would go in the void in the sign. Chad Morris stated that no decision has been made yet. Alderman Krause stated this isn't something he can support with the void in the sign. He would like to see a solid rendering of what will go in that spot. Motion to table the resolution (Krause), seconded (Morrison) and voted all ayes.
D. EMS Returned To Committee: None
4. Boards and Commissions:
A.) Plan Commission
B.) Zoning Board of Appeals-3/27/17 Minutes
C.) Human Relations Commission
D.) Historic Preservation Commission
E.) Recreation, Arts and Special Events Board
F.) ETEC
G.) Library Board
H.) Band Board
l.) Cool Cities
5. Old Business:
6. New Business: Alderman Krause had some concerns and wanted to discuss what the parameters were for the funding for the Special Parks. Several months back, an increase was approved in the hotel/motel tax funds and various portions thereof were allocated to go towards our Special Parks and also the Tourism and Marketing budget. He would like to see an ordinance or language created governing how that would be distributed. Tim Harr stated they would like to approach this on as needed basis. Alderman Krause would like to see an application or formula setup with how to distribute these funds within the groups. Committee discussed different ways to approach this. Walt Williams stated that he and Bob Pfeiffer discussed the idea of competitive grants, up to $35,000, to be competed upon within the different groups. In addition, they discussed giving $5,000 to the groups that didn't qualify for the competitive grant that year. They would like to see these groups do more fundraising. Alderman Krause reiterated he would like to see some solid guidelines as to how the 1% tax would be allocated. Walt Williams will compile a list of the ideas and suggestions from the Committee as to how to proceed with this and he will put something together for review. With regard to Tourism and Marketing, Walt Williams discussed the proposed Edwardsville tourism project brochure to be distributed by the Convention and Visitors Bureau that would be ready to go by July 1. Committee had a lengthy discussion as to how to proceed with this and keep it going and how it would actually work within the short timeframe.
7. Next ACS Meeting: Thursday, June 1, 2017 at 5:30 pm at City Hall
8. Adjournment
http://www.cityofedwardsville.com/vertical/sites/%7B34A7A41D-E4CE-406F-A478-1AB1C7AFC835%7D/uploads/DOC060717-06072017100129.pdf
Want to get notified whenever we write about
City of Edwardsville Administrative and Community Services Committee
?
Next time we write about City of Edwardsville Administrative and Community Services Committee, we'll email you a link to the story. You may edit your settings or unsubscribe at any time.
Sign-up for Alerts
Organizations in this Story
City of Edwardsville Administrative and Community Services Committee
More News