Madison County Board met May 17.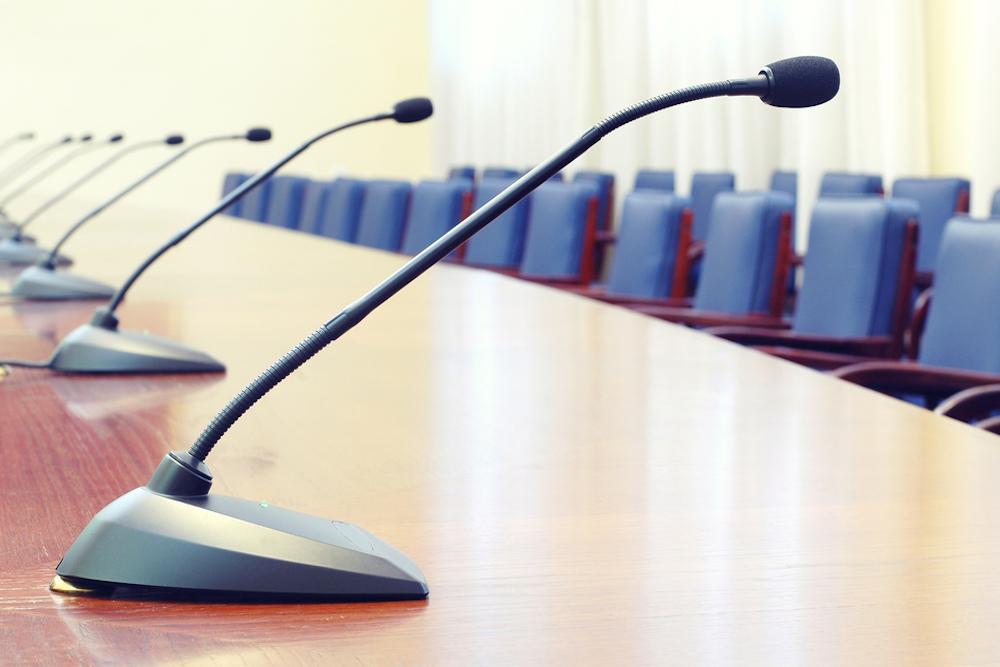 Madison County Board met May 17.
Here is the minutes provided by the Board:
The Board met pursuant to recess taken April 19, 2017.
* * * * * * * * * *
The meeting was called to order by Kurt Prenzler, Chairman of the Board.
The Pledge of Allegiance was said by all members of the Board.
The Roll Call was called by Debra Ming-Mendoza, County Clerk, showing the following members present:
Present: Messers. Asadorian, Chapman, Ms. Ciampoli, Ms. Dalton, Ms. Dutton, Futrell, Ms. Glasper, Goggin, Ms. Gorman, Ms. Hawkins, Ms. Harriss, Holliday, Jones, Ms. Kuhn, Madison, Malone, Maxwell, McRae, Michael, Moore, Ms. Novacich, Parkinson, Petrillo, Pollard, Trucano, Walters and Wesley.
Absent: Dodd and Minner.
* * * * * * * * * *
Ms. Hawkins moved, seconded by Mr. Jones, to approve the minutes of the March 15, 2017 and April 19, 2017 meeting. Motion Carried.
* * * * * * * * * *
Eve Drueke from Planning and Development recognized and awarded area students that participated in various contest the department held.
* * * * * * * * * *
Dave Parizon of the Information Technology Department was awarded the 2017 GIS Mapping project.
* * * * * * * * * *
W.H. Rogers' Address to the Board:
I am here against the rezone at property at 5429 Maryville Road. It is a B-1 limited business and they want to change it to a multiple family dwelling. To do this, the zoning board said it should be on a 2 acre land, he has a half acre of land. It is also supposed to be 25 feet from the road and he is 12 feet from the road. He says it will just be apartments, but right now there is a store there and it has two apartments up over it. Now he has built 4 apartments under it without any permits. He also said he was going to build 6-8 more apartments on that half acre lot. This is not safe. The property value will go down if this happens. I have a petition with 86 names on it. That tells me 86 families are against it. On site we had 15-20 people there. The neighborhood does not feel this is a good idea and we are against it, we are trying to keep our property looking as good as we can and keep it safe.
* * * * * * * * * *
Eddie Lee's Address to the Board:
My name is Eddie Lee and I am the supervisor of Chouteau Township and I would like to ask for a few minutes of your time to thank the board members who serve on the Planning and Development Committee and also Wayne Brendel. I want to thank them for their support on resolution Z17-0004 and ask you to support them also. But most of all I would like to thank them for making the people of our community feel like their voices were heard. I have been supervisor for the last 16 years and over the last few years I have seen the people of the area lose faith in the county. Whenever I have residents in my office talking about a subject, I tell them I will have to contact the county for something, they just roll their eyes and say we are just wasting our time. If you have ever been a trustee or supervisor of a township you know that 75% of the time when you have a problem with property violations, it is most of the time own by someone or company that don't even live in the township. And most of the time they are the first to protest their taxes. I want to thank you for making the people feel like their voices were heard and thank you for making them feel they can believe in our county government again.
* * * * * * * * * *
Mr. Parkinson: Mr. Prenzler, with the other speakers not showing up, there is another entity that would like to have spoken tonight. Being we do not have five speakers could we possibly hear from the fire chief from State Park, whose member is being replaced today.
Mr. Prenzler: Madam Clerk believes that would be in violation to the ordinance that we have.
http://www.co.madison.il.us/document_center/CountyClerk/05-17-17m.pdf
Want to get notified whenever we write about
Madison County Board
?
Next time we write about Madison County Board, we'll email you a link to the story. You may edit your settings or unsubscribe at any time.
Sign-up for Alerts
Organizations in this Story
More News