GOP voices concern about political patronage bill involving Metro East Sanitary District
Sen. John Curran (R-Downers Grove)
For a number of years, the Metro East Sanitary District has been a hallmark of political patronage and a lack of competence, according to Sen. William Haine (D-Alton).
"It's one bad headline after another," Haine said as he presented SB 2368 during the May 30 Senate floor debate on how the district's name has suffered under both political parties.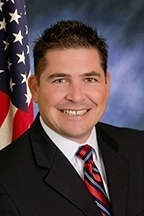 Sen. Kyle McCarter (R-Lebanon)
The Metro East Sanitary District was developed by the federal government and has been a levy-maintained district since the 1940s.
If the bill is signed into law, the district's makeup would change.
"The Republican board chairmen won two years ago and promised reform and hired an executive director that doesn't live in the district... and the board continues to have various perks like insurance [and] health insurance," Haine said.
Haine said his bill would make things right by mandating an elected official serve.
"It's time to have someone on the board who runs for office and who is accountable to the people," he added.
Beginning the debate, Sen. John Curran (R-Downers Grove) asked if the bill allowed enough time for the existing director to comply in a timely manner so he could sell his current residence and find a home within the district.
No, answered Haine, leaving Curran to speak about how it violates an employees' due process rights.
Citing his history with the bill, Sen. Kyle McCarter (R-Lebanon) said when he served on the county board, he was the only 'no' vote for a proposed levy.
"It's exactly what the sponsor said," McCarter added. "It's political patronage—year after year after year."
Like Haine, McCarter said it doesn't matter if it is Democrats or Republicans, patronage is present in Madison County and wasting taxpayer funds.
"Do the right thing," McCarter said.
Concluding the debate, Sen. Dale Righter (R-Mattoon) said that although he was not readily aware of the bill, he learned a lot during the debate.
"I listened to Haine in the opening and then Sens. Curran and McCarter, and it is clear what is going on here, " Righter said. "Nobody in this chamber would sign off on a change in the condition of employment ... [for] anyone we know or respect."
He added that Curran was right. If the bill becomes law, it will be Springfield firing the executive director of a local board. Righter said that although he has immeasurable respect for Haine, he just cannot support the bill.
"We know most of our friends and colleagues won't be comfortable with [it]," Righter said. "This is not what we should be doing. No one thinks we should be doing this."
Despite GOP concerns, the bill is now in the hands of Gov. Bruce Rauner for final consideration.
Want to get notified whenever we write about
State of Illinois General Assembly
?
Next time we write about State of Illinois General Assembly, we'll email you a link to the story. You may edit your settings or unsubscribe at any time.
Sign-up for Alerts
Organizations in this Story
State of Illinois General Assembly
More News