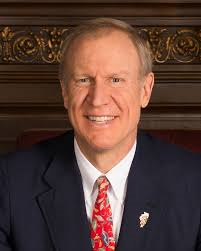 Governor Bruce Rauner
The Statehouse was on security lockdown early on Thursday after a substance was allegedly thrown at Gov. Bruce Rauner's office, as well as the lieutenant governor's office and the House gallery.
Rauner was not in the building at the time.
The lockdown came as House lawmakers were convening to vote on whether to override Rauner's vetoes of budget bills aimed at funding the state.
"We are still on lockdown. Possibly for an hour," Rep. Stephanie Kifowit (D-Oswego) tweeted. "I'm in the Chamber, strange substance was thrown at Gov office. Hazmat on the scene."
Springfield Fire Chief Barry Helmerichs said a woman entered the building at approximately 1:26 p.m. and threw a white powder. She was taken into custody immediately.
A hazmat crew checked the substance and had found no threat by late afternoon, although the crew was seen leaving Rauner's office with several full bags. The air conditioning was shut down in the building to prevent the possibility of contamination, and streets surrounding the building were closed.
Springfield Fire Marshal Chris Richmond said there was no reason to suspect anyone in the Capitol was in danger.
"The security of state police did seal the building; in other words, no one in, no one out," Richmond said. "The folks that are in the building are going to remain in the building for a period of time until more information tells us we can take another track at this."
The crew swept the rest of the building and reports indicated the substance had been tested and found harmless.
"This is very standard procedure for hazardous material response and precaution," Richmond said.
Rep. Allen Skillicorn (R-East Dundee) tweeted that he wasn't sure which was worse, "the suspicious white powder at the Capitol or Madigan's #taxhikes and #JunkBudget?"
As of press time, lawmakers were waiting for safety clearance before returning to session.