Illinois state Sen. Jason Plummer (R-Edwardsville)
Illinois state Sen. Jason Plummer (R-Edwardsville) laments the fact that continued poor policy-making has made the state an easy target for media and special-interest groups, not to mention diminished the quality of life for overburdened taxpayers.
"There's numerous nonpartisan groups out there now ranking Illinois the worst state in the country when it comes to taxation and that puts a very heavy burden on families and businesses throughout Illinois, and that's why our state population continues to shrink and we continue to see businesses and quality jobs flee to other states and why we're facing the fiscal crisis we're facing," Plummer told the Metro East Sun. "Until we make our state more competitive, we're going to continue to struggle."
With its declining reputation, including a report from business and economic forecasting publisher Kiplinger's that finds Illinois is now considered the "least tax-friendly" state in the country, Plummer fears things are bound to get worse before they get better. Kiplinger's based its rankings on the tax burden of a "hypothetical middle-class family" in all 50 states and Washington D.C.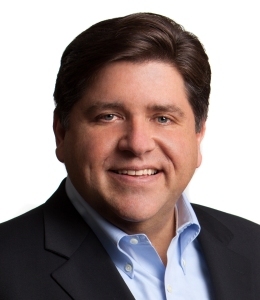 Illinois Gov. J.B. Pritzker
While income tax rates in Illinois were found to be in the middle of the pack, the state's overall ranking plummeted based on such factors as how much residents here pay to the government than in other states, and the state's standing as having the second-highest property taxes in the country, behind only New Jersey.
"What we're doing from a tax standpoint with property taxes, income taxes, sales taxes, gas taxes and every other tax you can think of is immoral," Plummer said. "It's truly taking opportunities away from people. It's truly shrinking out communities and breaking up families as people choose to move away."
Meanwhile, Gov. J.B. Pritzker is now pushing a progressive tax system that would mean a change to the state's existing flat 4.95-percent tax rate and higher rates for those earning upwards of $250,000. Adopting the new formula would require a change to the state constitution and the question will be on the ballot for voters in the form of a referendum during the 2020 elections.
Plummer argues that the state's pathway to newfound prosperity does not lie in higher taxes and it is time Springfield got the message.
"We need people in Springfield to understand how business works and to understand that our tax-and-spend policies are destroying communities and families across this state."
As much as he's carried the message since arriving in Springfield, Plummer said he still does not get the feeling that it's being heard.
"How can you continue to have the pension crisis that we have, how can you continue to have the backlog of unpaid bills and how can you continue to have the highest tax burden on your constituents and decide, 'Let's spend the most money we've ever spent in state history on the budget?'" he said. "I don't think that's a solution."