Belleville City Council met December 4.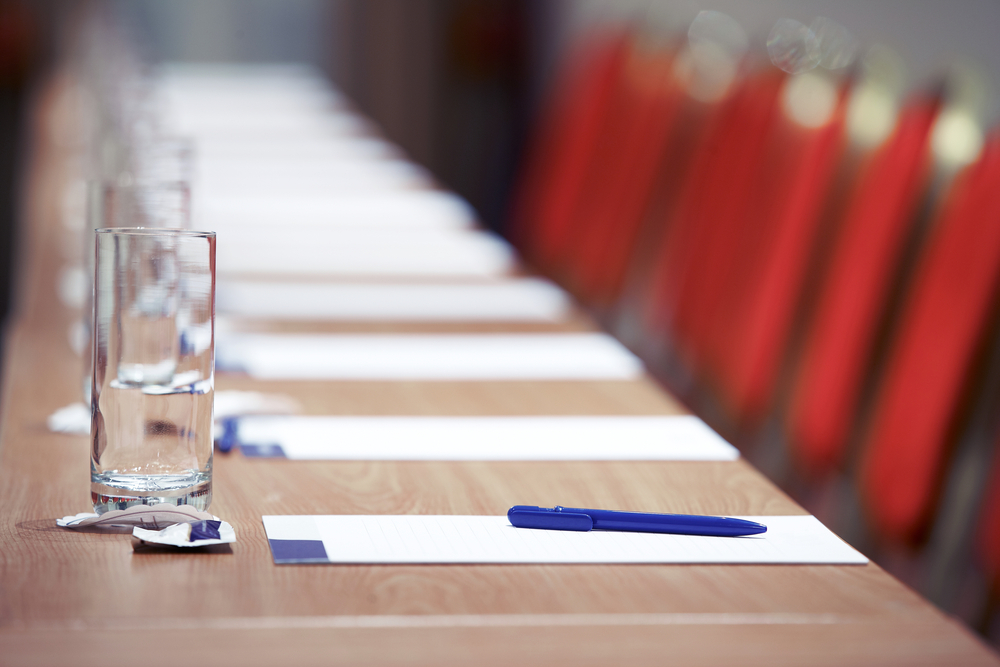 Belleville City Council met Dec. 4.
Here is the agenda provided by the Council:
1. Call To Order By Mayor And Explanation Of Disaster Procedures
Reminder: Since The Meetings Are Being Videotaped It Is Important That Everyone Speak Directly Into A Microphone When Speaking.
2. Roll Call Aldermen
3. Roll Call Department Heads
4. Pledge Of Allegiance
5. Public Hearing
6. Public Participation (2-3 Minutes Per Person) - See back page for rules.
7. Presentations, Recognitions & Appointments
7-A(1). ABMC Education "Understanding Sacrifice of Fallen Heroes" Presentation of the USS Arizona - Seaman Second Class Bruce D. Bradley.
7-A(2). Mayor Eckert will recognize the character word of the month "EMPATHY" identifying and understanding others; feelings in order to get along better.
8. Approval Of Minutes
8-A. City Council Meeting - November 20, 2017.
9. Claims, Payroll And Disbursements
9-A. Motion to approve claims and disbursements in the amount of $3,880,229.06 payroll in the amount of $839,413.39.
10. Reports
10-A. Treasurer Report–October 2017.
10 (A-1). Statement of Cash and Investments Report– October 2017.
11. Oral Reports From Standing Committees, Special Committees And Any Other Oral Reports From The Elected Officials Or Staff
11-A. Motions From Zoning Board:
11-A(1). 62-Nov17-Andrew & Erica Willis - A request for a Special Use Permit for re-establishment of multifamily dwellings at 1005 West Main Street (Parcel: 08-21.0-328-020) located in a "C-2" Heavy Commercial District. (Applicable section of the Zoning Code: 162.248) Ward 2. - The Board recommended approval 6-0
11-A(2). 64-Nov17-Clinton Tull - A two-fold request for a Use Variance to permit prolonged use of a temporary recreational vehicle at 715 Ann Street (Parcel: 08-27.0-141-018) located in an "A-1" Single-Family Residence District (Applicable sections of the zoning code: 162.027, 162.093, 162.094) and to permit use of said temporary recreational vehicle for storage. (Applicable sections of the Zoning Code: 162.093, 162.094) Ward 6 The Board recommended denial 5-1
11-A(3). 65-Nov17-Amber Johnson - A request for a Sign Installation Permit in the Area of Special Control for signage at 14 East Main Street (Parcel: 08-21.0- 445-008) located in a "C-2" Heavy Commercial District. (Applicable sections of the Zoning Code: 155.052, 155.053) Ward 6
11-B. Motions From Administration:
11-B(1). Motion to approve 2018 Committee & Commissions calendar.
12. Communications
12-A. Communication from Belle-Scott - Greater Belleville Chamber of Commerce to hold the January Belle-Scott Committee Meeting at City Hall on January 11, 2018 6:00 pm - 9:00 pm. The meeting will include updates from SAFB and the City of Belleville, introduction of new members, recognition of military leaders being reassigned, tour of City Hall, heavy Hors d'oeuvres, a bar and music.
13. Petitions
14. Resolutions
15. Ordinances
15-A. Ordinance 8138-2017
A Zoning Ordinance In Re 62-Nov17-Andrew & Erica Willis.
15-B. Ordinance 8139-2017
A Zoning Ordinance In Re 65-Nov17-Amber Johnson.
16. Unfinished Business
17. Miscellaneous & New Business
17-A. Motor Fuel Claims in the Amount of $1,203.75.
18. Executive Session
18-A. The City Council may go into executive session to discuss personnel, litigation, workers' compensation, property acquisition, transfer of property, review of executive session minutes (5 ILCS 120/2(c)(21)).
18-A(1). Possible motion to release executive session minutes.
19. Adjournment (All Questions Relating To The Priority Of Business Shall Be Decided By The Chair Without Debate, Subject To Appeal)
http://www.belleville.net/AgendaCenter/ViewFile/Agenda/_12042017-1587
Want to get notified whenever we write about
City of Belleville
?
Next time we write about City of Belleville, we'll email you a link to the story. You may edit your settings or unsubscribe at any time.
Sign-up for Alerts
Organizations in this Story
More News